East Kentwood High School
Class of 1970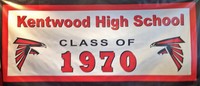 PLEASE NOTE: DUE TO THE CURRENT STATUS OF THE CORONAVIRUS PANDEMIC AND THE STRICT RESTRICTIONS THAT HAVE BEEN PLACED ON EVENTS SUCH AS OUR REUNION CELEBRATION (AND RELATED FACTORS), IT IS WITH MUCH REGRET THAT OUR 50th REUNION EVENT HAS BEEN POSTPONED TO OCTOBER 1-3, 2021. ALL VENUES AND ACTIVITIES WILL REMAIN THE SAME. CLASSMATES WILL RECEIVE A LETTER DETAILING INFORMATION FROM THE PLANNING COMMITTEE REGARDING THIS CHANGE. THANK YOU FOR YOUR UNDERSTANDING.
L Class of '70 Classmates,
Welcome to the KHS Class of 1970 website! As a classmate, you will receive information regarding the 50th Class Reunion, as well as other events, messages, and notices, and can connect with other classmates. If you have not registered, please register by clicking the "Join Here" tab (see right »»).**
For the 50th Reunion event information, please pull up the "50th Class Reunion Schedule" («« see left bar).
While still under construction, here are a couple pages to look for in the near future:
< "Missing Classmates": This page will list names of all classmates (known to us) that we have been unable to locate.
< "Photo Gallery": Look for this page to view photos from school years and past reunions!
Take a look around the site. The "In Memory" page is a nice remembrance of those classmates who have passed. Also, if you have any ideas for a page you'd like to see, please let us know.
We look forward to connecting with you!
** Please Note: If you don't see your name, please notify us and we will promptly add it. Thank you.
ANNOUNCEMENTS
It was 50 years ago June 11, 1970 that our class, the last graduating class from Kentwood High School, graduated. It hardly seems possible!
We have added a few pictures of our graduation on our "Photo Page" from the 1970 Yearbook. If you have any pictures you'd like to share of the graduation (or other HS event), please contact us and we will post them on our website!
We look forward to celebrating at our 50th High School Reunion in October, 2021!!